Post-Bariatric Weight Loss Surgery
After rapid weight loss, especially via surgery, the elasticity of skin tends to be outpaced by the weight lost. This can result in large skin flaps, usually on the arms, legs, stomach, breasts, and around the face and neck.
At Dr. G Cosmetic Surgery, we understand that these flaps reduce confidence and are otherwise undesirable. We're ready to provide solutions.
Post-Bariatric Weight Loss Consultation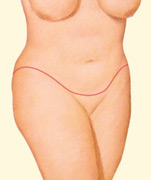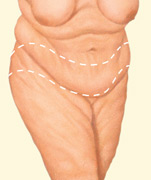 In order to decide whether post-bariatric weight loss surgery is right for you, you'll need to come in for a personal consultation with us. Dr. G. Together, we will review the following:
Your medical history
Your current medications
Allergies
Prior surgeries
With this information, we will be able to understand your unique situation and best evaluate any considerations or possible complications specific to you. We will also discuss your motivations, including your priorities and fears.
After your expectations are clear, we can go over your options and decide together whether or not post-bariatric weight loss surgery is the right choice for you.
We may then discuss your operation. If there are multiple areas for which you desire surgery, this may require more than one operation. Usually a maximum of two areas may be completed at once, such as arms and legs. According to your priorities, we will determine the order and combination of operations.
Post-Bariatric Weight Loss Surgery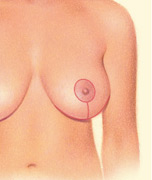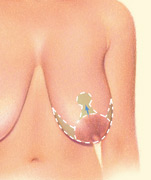 The post-bariatric weight loss surgery is generally performed in our state-of-the-art outpatient facility under general anesthesia. Local anesthesia with intravenous sedation may also be used in certain circumstances.
Depending on the combination of surgeries and the technique used, the actual surgical procedure may take anywhere from four to eight hours. If a second surgery is required, it would also likely take between four to eight hours, again depending on technique and combination of surgeries.
While standing, lines for incisions are outlined on the area of operation. After speaking with the anesthetist/anesthesiologist, the patient is brought to the operating room. After the patient is asleep, local nerve blocks combined with a medication that shrinks blood vessels and capillaries to reduce any bleeding are injected.
Recovery After Post-Bariatric Weight Loss Surgery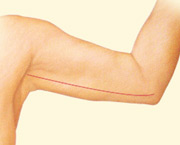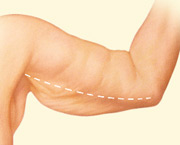 Following the surgery, patients generally report mild to moderate discomfort which is easily controlled with medication. Depending on the procedure, or combination of procedures, varying degrees of swelling and bruising subside over several weeks to months.
Sutures (stitches) are removed after seven days and patients can generally return to work after several days to one week. Light exercise may begin after four to six weeks.
Recovery and healing will vary from patient to patient and depend on the extent of the surgery. It must also be remembered that complete healing takes time and patience, taking up to one year or longer for scars to soften, lighten and fade and for skin tissue to soften, relax, and remodel itself.
Potential Post-Bariatric Weight Loss Surgery Complications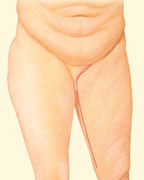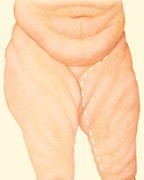 For this type of surgery, serious risks are extremely rare, especially with an experienced plastic surgeon such as Dr. G. Potential, but unlikely, complications for any surgery include:
Adverse reaction to anesthesia
Blood clots
Infection
Scarring
Note that with this sort of surgery, scarring will usually happen to some extent, but we will utilize techniques to keeps scars in body contours and in areas which are easily hidden.
Contact Dr. G for Post-bariatric Weight Loss Surgery
If you've been considering post-bariatric weight loss surgery, please contact Dr. G and his staff today to schedule a consultation. We will work with you to determine if the surgery is right for you.