Breast Implants in Miami with Dr. G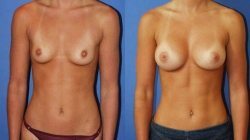 Breast Augmentation has given women throughout Miami and Florida added confidence in their appearance. Breast Augmentation is one of the most frequently performed procedures in the United States today. Breast implants enhance the size and shape of the breast by adding firmness and fullness. Breast augmentation can be used to enhance body symmetry and self-image primarily or following pregnancy. Breast implants can also be used for correcting asymmetry and for reconstructive purposes. Dr. Gershenbaum offers complimentary breast augmentation consultations at our Miami office.
The following is a review of the information you discussed personally with Dr. Gershenbaum regarding possible breast enlargement or augmentation. It is presented to aid you in making a decision regarding this surgery. Remember, each person's surgery will receive very close special attention and individual thought, planning and care.
There are many details you will want to know and although you discuss them personally with Dr. Gershenbaum, this packet is made available to you so that you may refer to it and review it at your leisure. Please read all the information several times. Discuss any questions or comments with Dr. Gershenbaum prior to making any final decision regarding breast augmentation.
Types of Breast Implants
Miami cosmetic surgeon Dr. Gershenbaum routinely performs breast augmentation using either saline filled breast implants or the new FDA approved cohesive gel silicone implants. Most plastic surgeons and patients agree that the new cohesive silicone gel implants have a more natural feel. They are also less likely to produce rippling than saline breast implants, although saline implant are also available upon request. The cohesive gel implant will generally require a slightly larger incision to allow placement of the implant compared to a saline breast implant, however, Dr. Gershenbaum uses a specialized funnel that allows placement of a larger silicone implant through the standard smaller incision.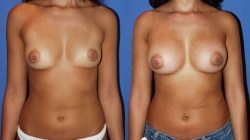 Breast Implant Location
The breast implant may be placed above the chest muscle (pectoralis muscle) or under the chest muscle. Dr. Gershenbaum generally places the implant under the chest muscle. Reasons for submuscular placement include a lower rate of capsular contracture (firmness and hardening of the healing tissues around the implant) and a more natural result due to more soft tissue coverage over the implant. Placement of the implant beneath the muscle may produce some movement and/or distortion of the breast and implant with active movement or exercise of the chest muscle, arms and shoulders.
Breast Implants also come in different shapes and profiles. Anatomic or "teardrop" shaped implants were created with a more natural shape in mind and designed to be fuller at the lower half similar to a natural breast. However, this distinct vertical orientation can result in distortion or breast asymmetry if the implant should rotate. A textured surface allowing tissue in-growth helps reduce the chance of rotation however may result in more visible or palpable rippling. For these reasons, anatomic implants are not commonly used.
Dr. Gershenbaum routinely uses the most common smooth, round implant. Since the breast implant is smooth and round, it is free to rotate without any adverse consequences. With gravity alone the cohesive silicone gel or saline will gravitate or fill the bottom portion of the implant when sitting or standing erect or fill the breast more uniformly when lying down supine, more closely imitating a natural breast shape. Textured implants allow for in-growth of the tissue during the healing process creating a velcro like effect between the implant and natural tissue. This adherence to the overlying tissue may create a more palpable implant and / or more visable rippling especially in thin patients. Unless otherwise indicated, Dr. Gershenbaum will use smooth round implants.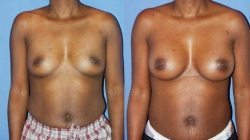 High Profile implants are also available with a more narrow base diameter (width) and an increased projection as compared to the standard Midrange Profile implants. High Profile implants are generally used when more projection is requested without the concomitant increase in base diameter (width). Dr. Gershenbaum routinely uses both Midrange Profile and High Profile Implants depending on the patients exams and desired goals.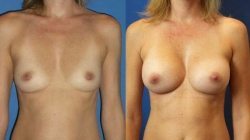 Size of Breast Implants
Choosing the right size implant is also very important in getting the desired result. Dr. Gershenbaum will measure the width of the breast as well as the distance from the nipple to the inframammary crease, and take note of the thickness of the skin and subcutaneous tissue. He will then suggest a range a sizes that will fit properly and produce a natural result. The patient has the ultimate decision and, at times, will have to decide on how large an implant verses how natural they would like to be.
Using too large an implant for the space that is available may take away from a natural look, especially true with a thin patient and a small breast or when a patient has an overly short distance between the nipple and the inframammary crease. Dr. Gershenbaum may recommend a High Profile implant for those who want to appear larger, with more projection but need to limit how far the implant extends laterally on the side of the breast, and / or inferiorly to the inframammary crease. A thorough exam is needed to determine which size and profile implant will best match the patient with their desired goals.
There are Several Different Locations for Incision Placement