Breast Augmentation Miami, Breast Implants
Breast augmentation has given women throughout Miami Florida, the United States and from numerous countries around the world added confidence in their appearance. Breast Augmentation is one of the most frequently performed procedures in the United States today according to the American Society of Plastic Surgeons (ASPS). Breast implants enhance the size and shape of the breast by adding firmness and fullness while improving body image and self esteem.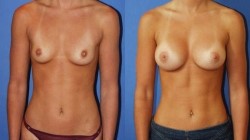 Breast Augmentation can be performed to enlarge smaller breasts, balance breasts that are asymmetrical, or restore fullness and volume that has diminished with age or as a result of pregnancy or weight loss. Breast Implants are also used for reconstructive purposes.
Breast Augmentation Consultation
The following is a review of the information you discuss personally with Dr. Sam Gershenbaum regarding possible breast enlargement or augmentation.  Remember, each person's breast surgery will receive very close special attention and individual thought, planning and care. The initial consultation is extremely important to review the patient's medical history, goals and expectations as well as build mutual trust and rapport. Numerous before and after photos are reviewed. The procedure is explained and the alternatives discussed. The breasts are examined to ensure that expectations can be met, as well as to review the surgical plan, implant size and incision/scar placement.
An ideal candidate for routine breast augmentation generally will have all the breast tissue above the inframammary crease (the crease under the breast) and the nipple in the middle of the breast. If the breast tissue and/or nipple is at the level of the inframammary crease or lower, a breast may be needed. The vast majority of patients have the procedure performed under general anesthesia, although local anesthesia with sedation is an option.
As an additional option, fat grafting can be used in addition to breast implants to improve shape, symmetry, improve cleavage or as additional soft tissue coverage for those with thin skin and tissues. Fat grafting is also frequently used for corrective breast implant procedures or revisions to aid in the cover of rippling, improve fullness in areas above the implants or cleavage, improve proportions or symmetry. Fat grafting, by itself, may also be used for those who choose not to have breast implants but would like to have improved breast shape and fullness or improve asymmetry. Dr. Gershenbaum will review all these options during your consultation. Additionally, breast augmentation costs, pricing, and treatment will be discussed during your consultation.
Types of Breast Implants
Allergan's Natrelle Cohesive Gel Implants
Natrelle Classic Round Profile

Natrelle Inspira … their newest line,  "more full" profile Implants

Natrelle 410 Highly Cohesive Silicone Gel Anatomical/Form Stable Implants
Allergan's Natrelle Saline Implants
Mentor Cohesive Gel Implants
Memory Gel Implants

Memory Shape Anatomical/Form Stable Implants
Mentor Saline Implants
Sientra HSC – High Strength Cohesive Silicone Gel Implants
HSC Round Form Stable Implants

HSC + Anatomical/Form Stable Implants
The most cohesive/form stable implants (more firm) are Allergan's Natrelle 410, followed by Mentor's Memory Shape, then Sientra's HSC+, Sientra's HSC, then Allergan's Standard Cohesve Gel followed by Mentor's Memory Gel
As noted above, there are now, three companies in the United States with FDA approved breast implants. Allergan (Natrelle Implants), Mentor (owned by Johnson and Johnson) and Sientra. Allergan and Mentor offer both cohesive gel implants and anatomical/tear drop shaped form stable implants, as well as saline implants. Sientra offers only HSC (high strength cohesive gel) form stable implants. The implants from all the companies come in a variety of sizes, projections and are offered in a smooth or textured shell surface. Miami plastic surgeon Dr. Sam Gershenbaum routinely performs breast augmentations using FDA approved cohesive silicone gel implants. Most plastic surgeons and patients agree that the new cohesive silicone gel implants have a more natural feel, and are less likely to produce rippling than saline breast implants.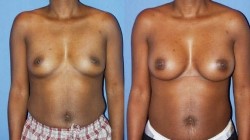 As mentioned, breast implants come in different shapes and profiles.  Anatomic or "teardrop" shaped, form stable implants were created with a more natural shape in mind and designed to be fuller at the lower half similar to a natural breast. However, these highly cohesive form stable implants are significantly firmer than the standard cohesive gel implants. Also, their distinct vertical orientation can result in distortion or breast asymmetry if the implant should rotate. Hence, a required textured surface allowing tissue in-growth, essentially holding the implant in place, helps reduce the chance of rotation, but may result in a firmer and more palpable breast implant. For these reasons, anatomical implants are not as commonly used. Dr. Sam Gershenbaum routinely uses the most common, cohesive silicone gel round implant. Since the breast implant is round, it is free to rotate without any adverse consequences. Also, a standard round implant becomes teardrop shaped if you hold it upright, as the cohesive silicone gel (or saline) displaces more to the bottom with gravity, producing the teardrop shape. Hence, gravity will cause the bottom portion of the implant to fill more when sitting or standing erect or fill the breast more uniformly when lying down supine, more closely imitating a natural breast. Textured implants allow for in-growth of the tissues during the healing process creating a Velcro like effect between the implant and the natural tissue. This adherence to the overlying tissue may create a more palpable implant and / or more visible rippling, especially in thin patients. Unless otherwise indicated, Dr. Sam Gershenbaum will generally use smooth round cohesive silicone gel implants.
High profile implants are also available with a more narrow base diameter (width) and an increased projection as compared to the standard midrange profile implants. High profile implants are generally used when more projection is requested without the concomitant increase in base diameter (width). On occasion, extra full profile (SRX-Natrelle) or Ultra High Profile (Mentor) are requested, but are used infrequently. Dr Gershenbaum routinely uses both midrange profile and high profile implants depending on the patient's exam and desired goals for breast augmentation.
Understand, that whether smooth or textured, round or anatomical form stable, each implant is believed to have different advantages and disadvantages. Some surgeons choose smooth implants over textured implants, while others may choose textured implants over smooth. Some surgeons choose anatomical form stable implants over round implants, believing that anatomical implants can produce more natural results, while others do not. For instance, a surgeon may choose to use a textured implant if the implant is being placed in a subglandular pocket, or a smooth implant if it is to be placed under the muscle. Some surgeons will vary the implant deciding which type of implant will produce the best outcome depending on the patient's history, their previous surgical history, their physical exam and requests and the overall surgical plan. Generally speaking, it is the knowledge, experience and skill of the surgeon, rather than the type of implant, responsible for the best outcomes. Award winning Dr. Sam Gershenbaum, previously chosen Best Plastic Surgeon Miami by New Times Magazine, has hundreds of before and after breast implants photos so you may see for yourself why so many from around the world come to have their surgery with him. Common procedures performed by Dr. G include: breast lift, breast reduction, breast reconstruction, and breast implants revision surgery.
Breast Implant Location
The breast implant may be placed above the chest muscle (pectoralis muscle) or under the chest muscle. Reasons for submuscular placement include a lower rate of capsular contracture (firmness and hardening of the healing tissues around the implant) and a more natural appearing result due to more soft tissue coverage over the implant. One of the drawbacks of placement of the implant beneath the muscle is possible movement and/or distortion of the breast and implant with active flexion or exercise of the chest muscle, arms and shoulders. When the pectoralis muscle contracts, it actively pushes the implant down and lateral to varying degrees. Most surgeons place the implant below the muscle, believing the advantages far out way the disadvantages. Dr. Gershenbaum generally places the implant under the chest muscle.
Size of Breast Implants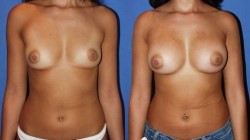 Choosing the right size implant is also very important in getting the desired result. An appropriate size implant will be determined by taking into account the patient's request for cup size and physical examination including the width of the breast, the distance from the nipple to the inframammary crease and taking note of the thickness of the skin and subcutaneous tissue. Also reviewed is the position of the nipple areolar complex as it relates to the inframammary crease as well as any asymmetry between the two breasts. It is also important to examine the boney ribcage frame work, as it is often different from one side to the other, and may affect the results as well. For these reasons, the breasts are commonly referred to as sisters, not twins, as they are more commonly different rather than exactly the same. Every effort is made to make the breasts symmetrical and as close as possible to the desired size, however no guarantee as to the exact size, shape or symmetry can be made by any surgeon. Along with evaluation and discussion of all these items above, Dr. Gershenbaum will then offer the patient a range of implant sizes to try on that will fit properly and accommodate the patient's request for cup size in relation to their physical examination.  Ideally, the ultimate goal is a natural appearing result. The patient has the ultimate decision and, at times, will have to decide on how large an implant verses how natural they would like to be. Using too large an implant for the space and coverage that is available may take away from a natural look, especially true with a thin patient and a small breast or when a patient has an overly short distance between the nipple and the inframammary crease. When an implant is placed that is larger than the breast and surrounding tissues can adequately cover, the more there can be rippling that can be felt and visibly seen. For example, a woman with a medium frame and a "B" or "C" cup breast can accommodate a larger implant than a petite woman with an "A" cup breast. Breast implants will be more palpable (more easily felt) if there is inadequate soft tissue coverage (skin, breast tissue, muscle) in relation to the size of the implant used. Simply put, the larger the implant is beyond what fits appropriately, the less natural the result. Other causes for a palpable implant may include subglandular placement (over the muscle) and textured implants. Dr. Gershenbaum may recommend a high profile implant for those who want to appear larger, with more projection, but need to limit how far the implant extends laterally on the side of the breast, and/or inferiorly to the inframammary crease. At times, two different size implants are used to improve asymmetry. Dr. Gershenbaum tends towards the policy of well done rather than over done. Generally, a patient should know and agree with what size implant is going to be placed in surgery to avoid misunderstandings. A patient should not have breast implant surgery, simply deciding on and expecting a certain cup size, as the interpretation of a particular cup size can be very different from person to person and patient to surgeon.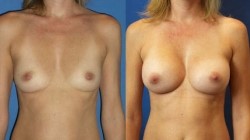 Locations for Incision Placement
Inframammary : Incision is placed in the crease under the breast
Areolar: Incision is placed in the border of the lower part of the areola (pigmented area around the nipple)
Axillary: Incision is placed in a natural crease in the hair bearing skin of the armpit
Trans-umbilical: Incision in the upper aspect of the belly button, reserved for saline implants only, as they can go in empty and be filled by a long tube after in place.
The final choice of incision placement is ultimately up to the patient. The most common requested incision is the areolar incision because of the excellent quality of the scars which are often near imperceptible.
Dr. Gershenbaum uses a specialized funnel (Keller funnel) to provide patients with the following benefits. that allows placement of a larger silicone implant through the standard small incision.
Allows placement of a larger silicone gel implant through a standard small incision
More choices for incision placement
Reduced force on implant placement, minimizes trauma to tissues and the implant
No touch technique, less skin contamination, which reduces the chance of capsular contracture     (hardening of the scar tissues around the implant causing a firm or hard breast)