Breast Augmentation Miami, Breast Implants
Breast augmentation has given women throughout Miami Florida, the United States and from numerous countries around the world added confidence in their appearance. Breast Augmentation is one of the most frequently performed procedures in the United States today according to the American Society of Plastic Surgeons (ASPS). Breast implants enhance the size and shape of the breast by adding firmness and fullness while improving body image and self esteem.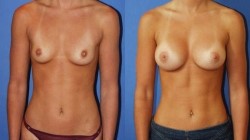 Breast Augmentation can be performed to enlarge smaller breasts, balance breasts that are asymmetrical, or restore fullness and volume that has diminished with age or as a result of pregnancy or weight loss. Breast Implants are also used for reconstructive purposes.
Breast Augmentation Consultation
The following is a review of the information you discuss personally with Dr. Sam Gershenbaum regarding possible breast enlargement or augmentation.  Remember, each person's breast surgery will receive very close special attention and individual thought, planning and care. The initial consultation is extremely important to review the patient's medical history, goals and expectations as well as build mutual trust and rapport. Numerous before and after photos are reviewed. The procedure is explained and the alternatives discussed. The breasts are examined to ensure that expectations can be met, as well as to review the surgical plan, implant size and incision/scar placement.
An ideal candidate for routine breast augmentation generally will have all the breast tissue above the inframammary crease (the crease under the breast) and the nipple in the middle of the breast. If the breast tissue and/or nipple is at the level of the inframammary crease or lower, a breast may be needed. The vast majority of patients have the procedure performed under general anesthesia, although local anesthesia with sedation is an option.
As an additional option, fat grafting can be used in addition to breast implants to improve shape, symmetry, improve cleavage or as additional soft tissue coverage for those with thin skin and tissues. Fat grafting is also frequently used for corrective breast implant procedures or revisions to aid in the cover of rippling, improve fullness in areas above the implants or cleavage, improve proportions or symmetry. Fat grafting, by itself, may also be used for those who choose not to have breast implants but would like to have improved breast shape and fullness or improve asymmetry. Dr. Gershenbaum will review all these options during your consultation. Additionally, breast augmentation costs, pricing, and treatment will be discussed during your consultation.