Breast Reduction in Miami, Florida
Miami breast reduction surgeon, Dr. Sam Gershenbaum combines modern technology with vast experience to offer the best breast reduction surgery in Florida.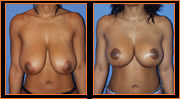 For many women, the size, shape, and contour of their breasts do not fit their self-image. Women with unusually large, sagging, or uneven breasts are dissatisfied with their physical appearance. Some experience pain and discomfort due to the weight of their breasts and the pressure of bra straps on their shoulders and neck. Excessively large breasts can affect posture, limit physical activity and exercise, and make it difficult to find properly fitting clothes. Ungainly stares and rude comments may further promote a feeling of self-consciousness, limiting confidence and adding psychological strain to the physical symptoms.
At our Miami, Florida center, we offer breast reduction or reduction mammaplasty to reduce and lift overly large and sagging breasts to a more comfortable size and shape. Breast reduction surgery improves body contour, reduces pain, and increases comfort in daily activities and exercise. Breast reduction is generally performed on women who have fully developed breasts, but occasionally, it is necessary in teenage girls who suffer from the physical and psychological symptoms of overly large breasts. Patient satisfaction with breast reduction is exceedingly high, and a great majority of women who have had this procedure wish they had had the procedure earlier.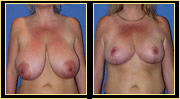 An ideal breast reduction candidate is uncomfortable with their large and/or asymmetric breasts. Patients must also be free of medical conditions such as heart disease, hypertension, diabetes, skin/connective tissue disorders, etc. If pregnancy is planned for the "near" future, it is best to wait until well after breast-feeding is complete.
Breast Reduction Consultation
The initial consultation is extremely important to review the patient's medical history, goals, and expectations, as well as build mutual trust and rapport. During the initial consultation with Miami breast reduction surgeon Dr. Sam Gershenbaum, you will review numerous before and after photos from previous breast reduction procedures. The procedure is explained in complete detail, and treatment variations are discussed to meet your particular needs. Dr. Gershenbaum also uses this consultation to get to know his patients on a personal level, developing a level of patient-surgeon trust that he feels is necessary for a comfortable surgical process.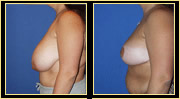 The breasts are examined to ensure that expectations can be met, as well as to review the surgical plans and the incision/scar placement. Every patient has different expectations, and Dr. Gershenbaum will formulate a procedure plan to meet your individual needs.
The breast lift surgical procedure is carefully explained and the alternatives are discussed. Understand that each patient has different breast contours and sizes and different expectations and requests. No one procedure can be expected to fulfill each individual's needs. A complete evaluation reviewing expectations and physical examination is needed to determine the best choice of procedure(s) for each individual patient. The breast lift surgical plan as well as the incision/scar placement is reviewed. It is also important to understand that breasts are naturally asymmetrical. Every effort is made to make the breasts symmetrical and as close as possible to the desired size. However, no guarantees as to the exact size, shape, or symmetry can be made by any plastic surgeon.
Types of Breast Reduction Surgery
There are currently several techniques for breast reduction in Miami, Florida. Each of the following breast reduction techniques is aimed to remove excess breast tissue, add contour to the breasts, and reposition the nipple. The standard breast reduction technique uses a "keyhole" pattern or "anchor" shaped incision. The incisions/scars for this procedure extend in three basic areas:
Entirely around the areola (the pigmented area around the nipple)
From the areola in a vertical direction down to the fold or crease under the breast
Horizontally along the area of the fold or crease under the breast extending for a variable length.
Minimal scar breast reduction encompasses several newer techniques, which are aimed at reducing scars. These techniques consist of removal of excess breast tissue either by excision or liposculpture and may result in scars only around the areola (the pigmented area around the nipple) or around the areola and vertically down to the crease under the breast. Although every effort will be made to keep scars as inconspicuous as possible, scars are the inevitable result of the surgery. Scars usually fade over the course of six to twelve months. See our Breast Reduction before and after photos here.
Breast Reduction with Auto Augmentation
Our Miami surgeon often combines breast reduction with "Auto" augmentation, a new technique to help maintain fullness in the upper portion of the breast. One of the problems extremely common with most breast reduction surgeries is a flatness or lack of fullness in the upper area of the breast. This deficiency in the upper breast area occurs gradually over several months as the repositioned breast tissue settles and succumbs to gravity. Some surgeons refer to this as "bottoming out" of the breast. "Auto" augmentation is a procedure where a portion of the internal breast tissue, which would normally be discarded, is left connected to the chest wall and its blood supply. This segment of tissue is passed up and under a two-inch bridge of pectoralis muscle and secured. This acts to keep fullness in the upper breasts as your own "natural" breast implants.
Scarless Breast Reduction
There is also the scarless breast reduction technique, which is another modality in selected individuals to reduce breast size with no visible scars. This liposculpture-only breast reduction technique is meant for patients who are not willing to accept the scars associated with standard breast reduction surgery, but are willing to accept a less dramatic change in size and shape.
Breast Reduction Surgery Procedure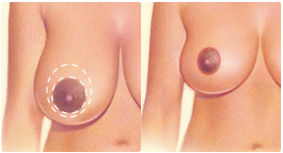 This breast reduction surgical procedure is generally performed in our state-of-the-art out patient facility under general anesthesia. Local anesthesia with intravenous sedation may also be used in certain circumstances. Depending on which technique is used, the actual surgical procedure may take anywhere from two to six hours. While standing, lines of incisions, new nipple/areola location and remainder of the surgical plan is outlined on the breasts. After speaking with the anesthetist/anesthesiologist the patient is brought to the operating room. After asleep, local nerve blocks combined with a medication that shrinks blood vessels and capillaries to reduce any bleeding are instilled.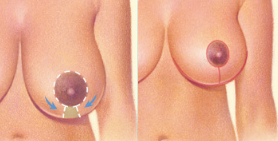 The standard breast reduction used a "keyhole" pattern or "anchor" shaped incision. The incisions/scars for this procedure extend in three different directions. First, entirely around the areola (the pigmented area around the nipple). Second from the areola in a vertical direction down to the crease under the breast and third, horizontally along the fold or crease under the breast extending for a variable length.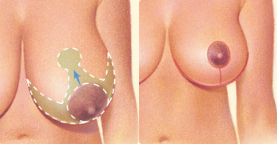 Generally, the greater the amount of the reduction and lifting, the longer will be the horizontal portion of the scar. Skin and breast tissue are removed and sculpted from the inner and outer quadrants of the breast and from the area above the nipple. The nipple and areola are preserved on a pedicle or mound of breast tissue that also serves to add volume to the breast. The remaining breast tissue and nipple are relocated in this keyhole pattern and the incisions closed. Dr. Gershenbaum does not use clips or staples to close the skin. All incisions are closed with sutures predominantly below the surface of the skin to avoid cross- hatching and suture marks and optimize the chances for the finest scars. "Auto" augmentation to preserve fullness in the upper portion of the breast may also be performed with the standard breast reduction. This additional procedure utilizes a portion of breast tissue left connected to the chest wall and its blood supply, which is passed up and under a two-inch bridge of pectoralis muscle and secured.
Different minimal scar techniques exist. With a periareolar-vertical or "lollipop" technique, excess breast tissue is removed by excision and/or liposuction. The skin is elevated and the excess is then removed from around and under the areola (the pigmented area around the nipple). The resulting scar extends completely around the areola and vertically down to the crease under the breast. An "auto" augmentation technique may also be performed to enhance the fullness in the upper portion of the breast.
Breast Reduction Recovery
Following breast reduction surgery, patients generally report mild to moderate discomfort, which is easily controlled with medication. Varying degrees of swelling, bruising, and firmness subside over several weeks to months. The periareolar-vertical and periareolar breast reduction techniques often result in varying degrees of "pleats" or folds around the incisions, which will resolve over weeks to months. Sutures (stitches) are removed after seven days. Patients can generally return to work after several days to one week. Light exercise may begin after four to six weeks. A support bra is generally worn for two to three months following the surgery and is encouraged as much as possible thereafter to maintain the contour. Recovery and healing will vary from patient to patient and depend on the extent of the surgery.
It must also be remembered that complete healing takes time and patience, taking up to one year or longer before realizing the final results of breast reduction surgery. It can take this amount of time for scars to soften, lighten and fade and for the breast tissue to soften, relax ad remodel itself. The breasts will get slightly smaller and descend to a certain extent as swelling subsides and the effects of gravity and tissue relaxation act on the newly tightened skin envelope. Most patients find this beneficial in that the breasts look more natural over time. The ability to breast-feed after breast reduction is generally preserved, but cannot be guaranteed.
Breast Reduction Complications
As with most cosmetic surgical procedures, complications following breast reduction are unlikely when the procedure is performed by a skilled and competent surgeon. Complications include, but are not limited to, anesthesia risks, bleeding, infection, tissue loss, delayed wound healing with obvious wide and/or raised scars, numbness, altered nipple sensation, asymmetry in breasts and/or areolas, enlarged areolas, and need for revisional surgery. Also, rare but possible are blood clots or emboli (blood clots which dislodge and travel in the blood stream to distant sites) which can be fatal.
At Dr. G's cosmetic surgery center, Venodyne® calf compression devices are used for every breast reduction surgery (as well as other surgeries). Venodynes are pressure cuffs that fit over each lower leg from the ankle to the knee circulating every one to two minutes to reduce the pooling of blood in the lower extremities and further reduce the possibility of blood clots or emboli. Also, smokers must stop smoking well in advance of surgery. Smoking seriously decreases blood circulation in the skin, which increases the risks of complications and poor healing.
Contact Dr. G for Breast Reduction in Miami
Prospective patients are encouraged to speak with previous patients about their breast reduction surgery and results.
If you've been considering undergoing a breast reduction procedure, contact our Miami cosmetic surgery center and schedule your consultation with Dr. G. today!