Breast Augmentation Surgery
Greetings friends.Last time, we looked at what happens during the breast augmentation operation. Today, we'll discuss breast augmentation surgery recovery.
If you have any questions about this or any other cosmetic/plastic surgery procedure, feel free to ask or visit my Web site.
In the coming weeks, we'll look at many procedures, including rhinoplasty, male pectoral implants and many others.
Best,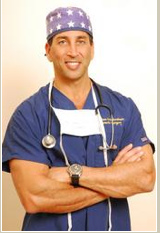 Dr. Sam G.
Following breast augmentation surgery, patients report mild to moderate discomfort, which is easily controlled with medication. Varying degrees of swelling, bruising and firmness subside in several weeks to months.
Sutures (stitches) are removed after seven days. Patients can usually return to work after several days to one week. Light exercise may begin after four to six weeks.
A support bra is worn for two to three months following surgery and is encouraged as much as possible thereafter to maintain the contour. Recovery and healing will vary and will depend on the extent of the surgery.
During the weeks and months after surgery, the breasts will soften and relax, looking and feeling more natural as swelling subsides and the effects of gravity and tissue relaxation act on the newly implanted breasts.
Complete healing takes time and patience, taking up to one year before realizing the ultimate result of the surgery.
Next time, we'll discuss possible breast augmentation surgery complications.
If you have any questions, please feel free to ask. To see before and after photos of my work, please visit my gallery page.
About Dr. Sam Gershenbaum
Based in Miami, Florida, Dr. Sam Gershenbaum is Founder and Director of the Dr. G Cosmetic Surgery. Cosmetic and reconstructive plastic surgery blends art and science, combining intuition, creativity and artistic sense with extensive surgical training, discipline, and medical knowledge. Dr. Gershenbaum is Board Certified in Plastic Surgery and Hair Transplant Surgery. A renowned specialist in aesthetic plastic surgery, he also has specialized training in reconstructive surgery for birth defects, traumatic injuries, and deformities from cancer including microsurgery and breast reconstruction. With this extensive background and experience, Dr. Gershenbaum has become the go-to specialist for corrective and revisional surgery for cosmetic surgery problems.